Supplying Wind Power With Expert Manufacturing
Wednesday, April 24th, 2019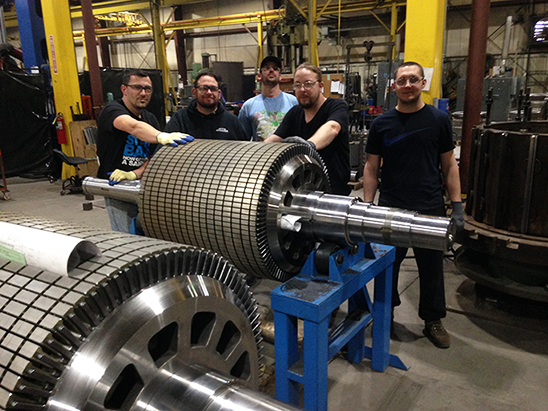 Power is power, or is it? In the US, green power generation or renewable energy sources are the focus of much growth and development. When it comes to wind power, there are many critical components housed under the nacelle. Working together, these components transform the wind's kinetic energy into mechanical energy to turn the generator, which produces electricity.

Currently, U.S.-installed wind power boasts 80 percent of nacelle assembly and tower content is domestic. With wind turbine output and reliability steadily increasing, costs per kilowatt decreasing, sourcing of these items to competent experts becomes of greater strategic importance to turbine manufacturers and wind power project owners. As US wind power continues to grow, the need for expert manufacturing offering comprehensive solutions increases as well. Luckily, Sotek specializes in all things power generation. Our capabilities are designed around supplying wind power stators and rotors. With 35 years of experience, Sotek will stamp and laser cut your stator and rotor laminations from in-house designed-and-manufactured tooling. Our technicians will then skillfully inspect, stack, align, measure, weld, layer, deburr and machine your wind power rotors and stators. Our facility manufactures vent plates, end plates, stator bars, related components and offers skilled, certified welders to meet and exceed wind power's increasingly demanding specifications. Sotek performs manufacturing, assembly, and quality operations in-house in our Buffalo, New York facility; including lamination stacking, pressing, welding, thermal fit shaft insertion, final machining, and value-added services with our skilled, dedicated team of manufacturing and assembly technicians. We support your purchased items, logistics, and offer exceptional supply chain value. Sotek is an essential and seamless part of your wind power manufacturing team!
Powering The World
As the need for green, renewable energy grows, so does the need for larger, more efficient and complex wind turbine design. With Sotek's experience, skill and efficiency your wind power manufacturing can be cleaner, greener, more streamlined and effective. Leaving you more time to service your customer. At Sotek, we solve your sourcing problems, simplify your process, save you lead time, processing time, manufacturing steps, purchasing steps, paperwork, additional vendors, headaches-- adding value along the way. Our goal is to make your project as simple as possible from start to completion.
Sotek offers solutions to all your wind power manufacturing needs and it's this easy to let us know how we can use our resources to help your project be successful!